For connectivity, few locations can outdo Euston. Our workspace is next to the station and close to King's Cross and St Pancras International, so you can travel to the UK and abroad easily. What's more, this is a distinctive art deco building in a growth area.

Can you be near great connections and still give your employees enough to keep them interested? Sure you can. Our Euston workspace is easy to get to, and it's home to every type of café and restaurant imaginable, from Japanese to Middle Eastern and Italian to Greek. Fancy a walk in the park instead? Rest and recharge in the garden squares nearby. Or visit the stores in St Pancras International. Plenty is going on.

Social workspace zone.
Beautiful art deco style building.
Secure smartcard access 24/7.
Next to Euston tube and rail station.
Location
Euston House, 24 Eversholt St, London NW1 1BS, UK
| | |
| --- | --- |
| Euston | |
| Euston Station (Stop B) | |
| City | |
| Heathrow | |
| Luton | |
| Standsted | |
| Gatwick | |
Private office
Minimum term: 1 Month
AVAILABLE NOW
211a - 4 desks
Private office for 4 people - 180sqft
£ 2,400.00
Minimum term: 1 Month
AVAILABLE NOW
211b - 4 desks
Private office for 4 people - 190sqft
£ 2,550.00
Minimum term: 1 Month
AVAILABLE NOW
205a - 4 desks
Private office for 4 people - 195sqft
£ 2,600.00
Minimum term: 1 Month
AVAILABLE NOW
Minimum term: 1 Month
AVAILABLE NOW
107a - 4 desks
£ 2,650.00
Minimum term: 1 Month
AVAILABLE NOW
107b - 4 desks
£ 2,650.00
Minimum term: 1 Month
AVAILABLE NOW
211c - 4 desks
£ 2,650.00
Minimum term: 1 Month
AVAILABLE NOW
409 - 4 desks
Private offie for 4 people - 175sqft
£ 2,650.00
Minimum term: 1 Month
AVAILABLE NOW
210 - 5 desks
Private office for 5 people - 220sqft
£ 2,900.00
Minimum term: 1 Month
AVAILABLE NOW
213b - 5 desks
Private office for 5 people - 220sqft
£ 2,950.00
Minimum term: 1 Month
AVAILABLE NOW
214 - 5 desks
Private office for 5 people - 245sqft
£ 3,050.00
Minimum term: 1 Month
AVAILABLE NOW
104 - 5 desks
Private office for 5 people - 245sqft
£ 3,100.00
Minimum term: 1 Month
AVAILABLE NOW
416 - 4 desks
Private office for 4 people - 190sqft
£ 3,350.00
Minimum term: 1 Month
AVAILABLE NOW
Minimum term: 1 Month
AVAILABLE NOW
Minimum term: 1 Month
AVAILABLE NOW
Minimum term: 1 Month
AVAILABLE NOW
423 - 5 desks
Private office for 5 people - 205sqft
£ 3,600.00
Minimum term: 1 Month
AVAILABLE NOW
424 - 5 desks
Private office for 5 people - 205sqft
£ 3,600.00
Minimum term: 1 Month
AVAILABLE NOW
404 - 5 desks
Private office for 5 people - 210sqft
£ 3,700.00
Minimum term: 1 Month
AVAILABLE NOW
407 - 5 desks
Private office for 5 people - 210sqft
£ 3,700.00
Minimum term: 1 Month
AVAILABLE NOW
208a - 9 desks
Private office for 9 people - 405sqft
£ 5,350.00
Minimum term: 1 Month
AVAILABLE NOW
205 - 9 desks
Private office for 9 people - 425sqft
£ 5,650.00
Minimum term: 1 Month
AVAILABLE NOW
102a - 10 desks
Private office for 10 people - 430sqft
£ 5,750.00
Minimum term: 1 Month
AVAILABLE NOW
102b - 10 desks
Private office for 10 people - 430sqft
£ 5,750.00
Minimum term: 1 Month
AVAILABLE NOW
105 - 10 desks
Private office for 10 people - 435sqft
£ 5,750.00
Minimum term: 1 Month
AVAILABLE NOW
203 - 14 desks
Private office for 14 people - 636sqft
£ 8,500.00
Minimum term: 1 Month
AVAILABLE NOW
207 - 16 desks
Private office for 16 people - 735sqft
£ 11,050.00
Minimum term: 1 Month
AVAILABLE NOW
106 - 17 desks
Private office for 17 people - 765sqft
£ 11,450.00
Minimum term: 1 Month
AVAILABLE NOW
122 - 20 desks
Private office for 20 people - 900sqft
£ 12,000.00
Minimum term: 1 Month
AVAILABLE NOW
Offices 102a, 102b & 103 - 24 desks
Private office for 24 people - 1060sqft
£ 14,100.00
Minimum term: 1 Month
AVAILABLE NOW
201 - 21 desks
Private office for 21 people - 960sqft
£ 14,350.00
Minimum term: 1 Month
AVAILABLE NOW
Suite 215 & 216 - 25 desks
Private office for 25 people - 1105sqft
£ 14,750.00
Minimum term: 1 Month
AVAILABLE NOW
Offices 214, 215 & 216 - 30 desks
Private office for 30 people - 1350sqft
£ 18,000.00
Minimum term: 1 Month
AVAILABLE NOW
Suite 205a - 208a - 29 desks
Private office for 29 people - 1335sqft
£ 20,000.00
Minimum term: 3 Month
AVAILABLE NOW
Offices 102a, 102b, 103, 122 - 44 desks
44 desk office on 1st floor - 1,955 sqft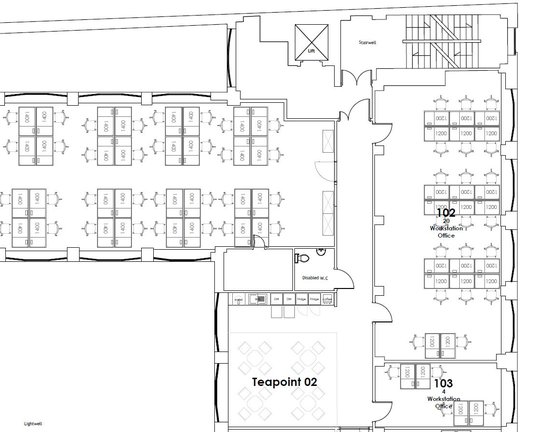 £ 26,100.00
Minimum term: 1 Month
AVAILABLE NOW
Suite 108 - 113 - 114 desks
Private office for 114 people - 5,155sqft
£ 68,700.00
Minimum term: 1 Month
AVAILABLE NOW
Suite 802 - 82 desks
Private office for 82 people - 3690sqft
£ 70,750.00