Meet the host: Breather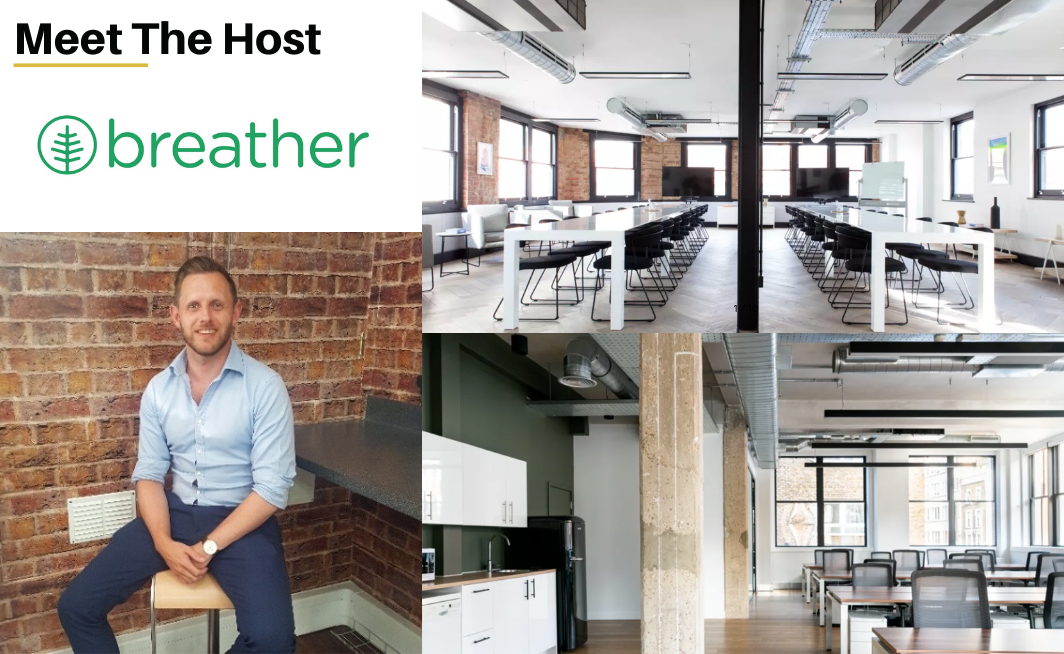 Spacepool spoke with Kieran Christie, Head of UK Sales at Breather, a flexible office space provider, about what it takes to build a new ecosystem allowing people to grow and fulfil their potential.
Background information
Our modern spaces are available in Boston, Chicago, New York, Los Angeles, Washington DC, San Francisco, London, Ottawa, Toronto, and Montreal. All of our offices are fully furnished, all-inclusive, and perfect for teams of 10–100 people.
They are private and distraction-free, allowing our clients to leave crowded, shared spaces for an office of their own. One of their advantages is that they offer 55% more space per person than coworking.
Another great thing about our offices is that they're available on flexible terms, allowing clients to trade in long-term leases and costly build-outs for a move-in-ready office with transparent pricing on flexible, month-to-month terms.
The offices are designed for productivity, featuring easy-to-use technology and modern furnishings, as well as large windows that allow for natural light, enabling client teams to do their best work.
How did Breather come into existence?
Back in 2012, its founders Julien Smith and Caterina Rizzi identified a gap in the market.
They realised that coffee shops, a popular choice for those working remotely, lacked the privacy and quietness essential for productive working and decided it was time to set up a space designed specifically for that purpose. The idea was to make the booking of meeting rooms and spaces as easy as getting an Uber. The first space was launched in Montreal, and we later expanded into New York and other cities.
In 2018, Breather started offering a new service – private flexible office spaces. The advantage of this offering is that companies can have entire offices to themselves, which means more privacy and room than in a typical coworking space, but on flexible terms, without getting clients locked into rigid leases. To make things easier for its clients, Breather designed fully furnished offices that companies can move into quickly without the need for any refurbishment works.
What is the vision behind the Breather?
We believe that quality workspace is an extremely important factor in stimulating productivity. We're on a mission to ensure workspaces provide people with the best conditions to help them flourish at work.
When we first started Breather, we thought of trees as the lungs of the world, helping people breathe easy and be comfortable. As we grow, we like to think of ourselves as building a new kind of ecosystem, one that lets you breathe and connect and climb as high as you need to.
What about the look and feel of your spaces?
All of our offices are fully furnished and suitable for teams of between 10 and 100 people. We're a design-led business, and our spaces are very modern, clutter-free, with generous desk space. Our offices have large windows, ensuring there's always plenty of natural light – it's a very important element of creating a sense of wellbeing among our clients.
How are you adapting to the current situation?
We're talking with hundreds of companies to better understand our customers' needs and how we can best support and be a resource to them during this time.There is a considerable amount of uncertainty, and they're looking to Breather for guidance as they are creating their back- to- work plans. Some of them are swapping coworking for private space; very few want to sign a direct lease now because of uncertainty and the likelihood that office prices will come down significantly in the near future; some are reducing their footprint because of downsizing and the growing acceptance of remote working. Some firms are planning on coming back to work in shifts, while others will continue to work from home until September or even January.
Are you planning on introducing new policies/changing the design of your office spaces?
We've been developing return-to-work plans for our customers, which in addition to enhanced cleaning and disinfecting protocols, include customized distancing layouts, social distancing recommendations, cleaning add-ons, and more.
While Breather customers already enjoy over twice the square footage per employee in the coworking spaces, we're creating plans for our customers to increase space between employees at workstations and in communal areas. We're adding options for protective equipment such as sneeze guards, and hand-sanitising stations throughout the space, as well as optimised audio-visual tech to better support remote working.
For us, it's an opportunity to help our clients adjust to the new ways of working. We work with organisations of all sizes, with office spaces ranging from 250 to 8,000 sq. ft, so their needs will, understandably, differ. Our customers use Breather as their headquarters, regional, satellite offices or swing space, so there is no one-size-fits-all approach. That's one of the big advantages of being with a flexible office space provider – we're always happy to work with our clients, help them identify what works best for their circumstances and objectives and get there together.